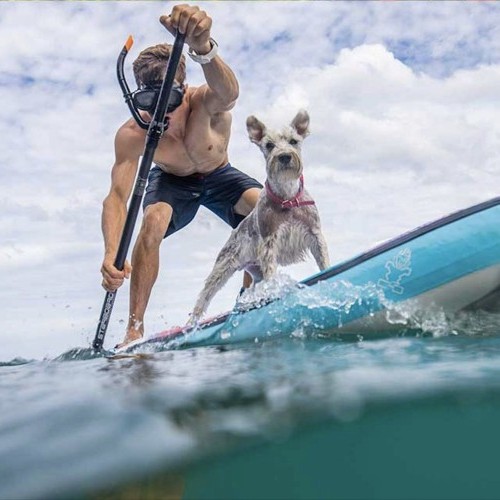 Google's Most Frequently Asked Questions About SUP Answered
Mon 23rd Nov, 2020 @ 12:30 pm
SUP World Champions Connor Baxter and Daniel Hasulyo answer some of the most commonly asked questions about SUP on Google. Read the full interview, right here.
What do I need to know before buying a paddleboard?
Connor
What are you going to do? Are you going on a surf? Are you going to be on an open ocean? If you are interested in doing some races, you are going to be looking more for a 12'6" or a 14". Surfing, we've got a whole line of Pro boards ranging from 6' up to 10'. And that's the first step you want to take. If you know what kind of category and discipline you are interested in then, you will be able to tune in specifically on that category.
Daniel
Before buying a paddleboard, you need to make sure there is a Tiki logo on it so; you can't go wrong. Then, you need to know the location where you want to use it.
Is Paddleboarding difficult?
Connor:
No! It's one of the easiest water sport to teach and to learn. I've taught people from having no water skills in 10-15 minutes, get them a nice, big, stable board and get them to feel comfortable by starting on their knees, paddling around and getting used to the technique and the strokes and then, they tend to stand up and feel comfortable on their feet. So, no worries. Easy. You can get it done.
Daniel
Paddleboarding is easy; there is no age limitation; you can start at the age of 2-3 years old and finish at 100s. I have been paddling with all kinds of people in any water, and I can invite anyone to try it. It's one of the easiest sports to start, and it's a lot of fun to practice so, get out there and do it.
Win a CORE XC Wing this issue in our FREE subscriber prize draw.
How do you paddleboard for beginners?
Connor
The biggest advice I give to new people coming into paddle boarding and all the beginners out there is first to grab your paddle and look at the scoop. It looks like a spoon that you would use to eat cereal with. Quite a lot of the time, people tend to have the paddle twisted around backwards. If this is the case, you would feel it in the handle, the handle would not fit nicely into the palm of your hand, and the rage should be pointing away from you so, pointing towards the nose of the board.
Daniel
My best advice is to bring your friends along. Never go out and paddle by yourself. It's always more fun to do things together and especially for safety. If you have someone with you that may have paddled before, that will make things a little bit safer. Always wear a leash. You can start on your knees if you don't feel comfortable standing up. Take it to step by step.
Win a CORE XC Wing this issue in our FREE subscriber prize draw.
How do you use a paddleboard paddle?
Daniel
You grab a paddle with your top hand on the handle and your lower hand on the middle of the shaft. Some people like to grab the shaft with both hands, but that's a little bit wrong. Make sure you have the top hand on the handle and another hand on the shaft. Once you get this positive, you can reach forward, and put the whole blade into the water and start pulling the blade toward you. And once you get this movement going, you will see that the board is going straight.
Do you wear shoes when paddleboarding?
Connor
Great questions haha. When it's cold, of course, you'll need booties. Not necessarily shoes so, they are made out of wetsuit material. Shoes will get wet and heavy, and if you fall off a paddleboard, you will have a difficult time swimming so, I will suggest booties only.
Daniel
I prefer not to wear shoes. If it's freezing, wear booties to keep you warm. I've seen people wear running shoes, wakeskate shoes, so it's a personal choice. I prefer to have direct contact with the board and feel the board on my toes and heels so, I prefer not to wear any, but that's a personal choice. So, go and try. See what you prefer to do.
Is paddleboarding harder than kayaking?
Connor
Yes and No. You are standing up so; you have way more sense of balance that you'll have to take into consideration. Whilst kayaking, you are sitting down so, paddleboarding is, to a certain degree harder. Having to paddle on one side and switching it, in my opinion, is a lot easier. The double blade kayaking paddle needs a very technical technique. However, on a SUP, you can step on the tail to turn a lot quicker and easier than typical kayakers can.
Daniel
It's a little hard to compare because, in one, you are standing on a board and in another, you are sitting. I feel like it depends on where you want to do it. But overall, I would say that possibly on a large board; paddleboarding can be an easier step on to the water. If you want to go on rapids, you want to start sitting down, so kayaking is going to be easier.
What is better, kayaking or Paddleboarding?
Daniel
Umm, that's a good question. I prefer paddle boarding… SUP…. Stand up paddling…. It's a lot better.
What should I wear to stand up Paddleboarding?
Connor
For all the parents wondering if their kids can jump on there with the water wings and the flotation on their arms, better to get a life jacket because the big bulky arms are going to make it very difficult to paddle. Sunscreen, lycra and leash. Those are three things I bring with me before I get even to my paddle or board. The lycra saves you from getting rashes on your chest and stomach area. The leash is the most important because that's going to connect you to the board. And sunscreen to protect you from the UV rays.
Daniel
It's good to be protected from the sun, so wear a hat or sunscreen. I usually wear long sleeve lycra if it's sunny or topless if it's warm enough. So, wear what makes you feel comfortable and depending on the temperature. Be ready, be protected, and be comfortable.
Win a CORE XC Wing this issue in our FREE subscriber prize draw.
Words Chris Couve
Read the full article, right here.
Featured in this Post
13,642
58,485
Comments