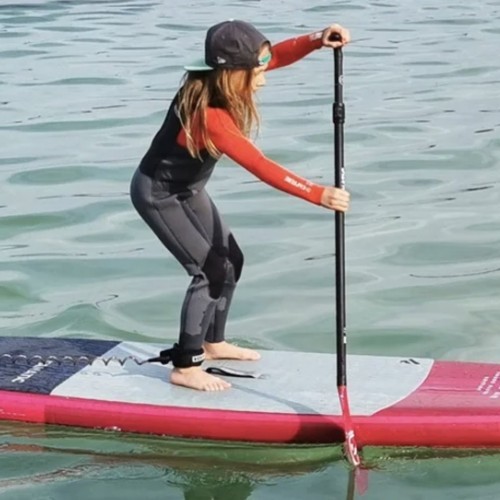 Fanatic | Falcon Air Young Blood
Fri 20th May, 2022 @ 9:30 am
Fanatic's Falcon Air Young Blood inflatable race SUP is designed for the next generation of paddleboard racers who want to focus on speed, training, and covering long distances.
The 12'6″ x 22″ shape is ideal for lighter weights with a narrower tail – featuring silicone rail edges – to maximise gliding efficiency and increase top speed. With generous flotation and ultra-stiff, lightweight Double Layer Premium technology, they're rigid and direct on the water, with a stable stance. Perfect for flat water or downwinders on the open ocean.
The Carbon 35 Young Blood paddle has a matt finish 35% Carbon/Glass shaft and a strong; ABS protected Carbon Composite blade.
Young Blood SUP Races were successfully held in Holland last year, and we will continue to do so in other countries this year.
Features
Outline: Stretched narrow outline with a narrow tail for clean and fast waterline/efficient strokes
Silicon Rail: Silicon rail edges for better release and reduced drag
High Quality: Produced at the world's most renowned manufacturer with top quality materials and production processes, providing unmatched air
pressure/stiffness ratio
Easy Use: Click Fin system – fit and remove in seconds
Comfort: Comfortable handle and quality towing eyelet
Pad: Diamond grooving footpad for ultimate grip and comfort
Please click here for more information on Fanatic's Falcon Air Young Blood.
Featured in this Post
Comments