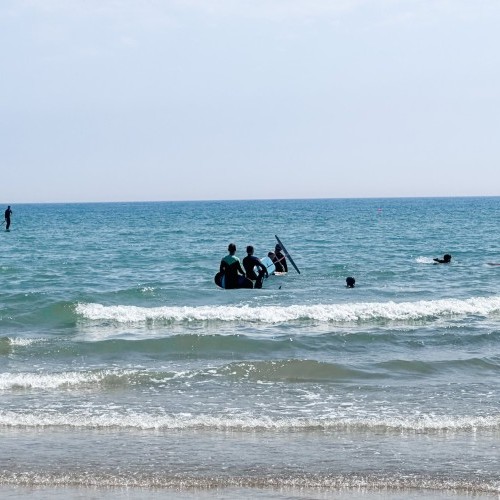 IKSURFMAG & Tonic Mag Demo Weekend 9-11th June, 2023 at The Beach, Littlehampton.
Features / Sat 17th Jun, 2023 @ 12:30 pm
Once again, Littlehampton delivered – and this time, we got all four seasons. From blazing sunshine to torrential rain, it's safe to say that everyone who attended won't forget it anytime soon.
On Friday afternoon, the IKSURFMAG & Tonic Mag crew arrived, including Rou Chater, Jen Tyler, Jack Galloway & Anastasia Pankina, in preparation for an early Saturday start. Several other brand representatives arrived as well, including Nik Green from Watersports World UK, Tom Beaton from Maxtrack Limited, and Karl Cadwallader from NeilPryde, to name a few, and a few other big names in the industry, including Mark Shinn and Lewis Crathern.
Come Saturday morning; it was go-time! All the major kite, wing, foil and accessory brands, including North, Mystic, Duotone, ION, Airush, Shinn, F-ONE, Slingshot, Cabrinha, Armstrong Foil, Freedom Foil Boards, Fanatic, Naish, Prolimit, Flysurfer, Manera, AK Durable Supply, AFS Foils, Lieuwe Boards, Eleveight, Ride Engine, Reedin were there and other independent brands including FacePlant, Sewn Again and SheFlies.
The weather, however, had other plans! The sun beat down relentlessly, but there was not a breath of wind to be felt, making it ideal for Tonic Mag editor Jack Galloway to run a ladder start foiling workshop, which proved to be a hit! Meanwhile, Rou Chater kept everyone's spirits high on the mic with his infectious energy and enthusiasm, and a DJ played great tunes.
The Kiteloop lagers rehydrated us perfectly on Saturday evening after a long day of soaking up the sun! The Cow Brothers played great tunes inside while most enjoyed sitting outside during a warm sunset and funky beats.
Sunday morning, the forecast still didn't look too promising; we couldn't help but feel a tinge of disappointment; was it going to be another sunbathing demo day? But the optimist (you have to be at these events) Rou called the infamous sea breeze as arriving at 1 pm. While they waited for wind, Jen and Rou decided this would be the perfect opportunity to have a tech talk with some of the brands and find out more about the latest technology and gear on the market. They managed to interview Paul Wakelin from AFS Foils, Tris Best from Armstrong Foils, Dom Yule from F-ONE, Tom Beaton from Ozone and Flysurfer, as well as Mike Birt from Airush, Shinn, and AK Durable Supply Co. (keep an eye out on our YouTube channel) and then, just as everyone except Rou had all given up hope, it happened!
At first, it was enough for the smaller riders and bigger kites on foils, then it built and built, and by 2 pm, it was a solid 20 knots gusting even high. Within minutes, everyone was on the water testing out the gear they'd had their eyes on. But it didn't stop there! After a solid two hours of breeze with everyone smiling from some fun sessions, the looming black stormcloud delivered a healthy dousing of rain to make the pack up particularly unpleasant. That's the way it goes sometimes, but we'll take wind, sunshine and a spot of rain any day of the week; this demo now gets to chalk up its third windy event, bucking the trend of the endless northerlies that have plagued the south coast for weeks.
It was one to remember, and we can't wait to see you at the next stop of our IKSURFMAG & Tonic Mag Demo Weekend. So, if a weekend of camping checking out the latest gear, DJs & live bands sound good, meet us at West Kiteboarding, Woolacombe, from the 11th – the 13th of August.
Click here and get your ticket ASAP!
Rou, Jen and the team at IKSURFMAG and Tonic Mag would like to thank all the brands for coming down to Littlehampton and The Beach for putting on the entertainment and food and everyone who came down to say hello!
Sat 17th Jun, 2023 @ 12:30 pm
Italian/Egyptian Jen Tyler grew up on the sandy beaches of the Red Sea and has been on the IKSURFMAG & Tonic Mag team since 2017.
Comments