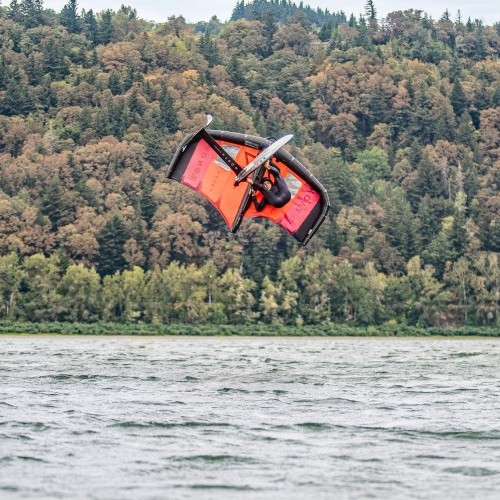 High Aspect Front Wings North
Features / Thu 6th Oct, 2022 @ 9:30 am
Win a Pair of FacePlant Sunglasses this issue in our FREE subscriber prize draw.
North released their NEW Sonar HA850/HA1050 Front Wings and S208 Stabiliser.
Engineered for the highest speed and efficiency possible across a range of disciplines, with the new North HA Series, you need minimal pump and power to generate glide. Boasting excellent lift at high speed: The smaller HA550 to HA1050 have less planing surface and higher stall speed. As a result, they generate maximum efficiency and lift for high-speed wing foiling, racing, tow-in surf, and kite foiling. The medium-sized HA850 to HA1250 is your core wing-foiling and prone sizes.
"Headache-free upgrades. New front wing, stabiliser, mast or fuselage? We've engineered our Sonar Foil System with fully interchangeable foil components, giving you the freedom to create your own custom setup, one that can grow with you as you progress" – North
Sonar HA Series
Engineered for the highest speed and efficiency possible across a range of disciplines, with the new North HA Series, you need minimal pump and power to generate glide.
The smaller HA550 to HA850 have less surface area and higher stall speed. They generate maximum efficiency and minimum drag for high-speed wing foiling, racing, tow-in surf, and kite foiling.
The HA850 to HA1050 are also ideal for tow-in and kite foiling.
Your core wing-foiling and prone sizes are the mid-range HA850 to HA1250.
The larger HA1150 to HA1450 are ideal for dock starts, pumping to connect wave after wave, coastal runners or bumps and lumps.
North Brand Director Mike Raper loves the way every wing size feels the same underfoot and has the same mast positioning on the board.
"The way our Design team have combined mathematical precision and aeronautical engineering means our new HA-Series feels like a family. These wings are engineered using proven formulas – we've calculated the centre of lift and centre of buoyancy in relation to stance position for every size and every board, so there's no need to adjust your mast or shim the stab. We've taken the guesswork out." – Mike Raper
The HA Wings have been designed for maximum efficiency and top speed. The high aspect ratio outline provides low-end lift and excellent glide, while the foil sections along the span have been engineered specifically to increase laminar flow and minimize drag at high speed.
"The HA850 has a combination of speed and glide, I've been using it not only for wing, but prone foiling also. I really like how it can accelerate on a wave, but still manage a medium speed." -Chucho Nonnot
The high aspect ratio means these wings have a wide span for their size; this gives you more lateral stability and a slightly longer radius turn than a lower aspect ratio wing of the same size. The wingtips are refined to ensure there is no ventilation when you tip breach, giving you the ability to crank tighter radius turns at higher speeds, without losing lift.
North Product Manager and Foils Engineer Uli Sommerlatt says the HA Wings are incredibly fun, efficient and extremely user friendly.
"We designed the HA Wings for the upper speed spectrum. To achieve higher speeds, we needed to find a foil section that reduced drag significantly. The wings feature a high aspect ratio, a relatively short cord length and thin profile thickness. This high speed comes at a cost – the HA Series has reasonably high stall speeds compared to our MA Series. If you want to have the optimum performance for the top end, you have to focus on efficiency. Everything feels quite effortless with these wings." – Uli Sommerlatt, Foils Engineer.
Sonar S208 Stabilizer
Flat, loose and fast, the new S208 Stabilizer is another high-performance upgrade to the Sonar Foil System for experienced riders. The S208 has a higher aspect ratio than the S210, which means less drag, and the flatter rondure (front view) enables more manoeuvrability.
"As we've increased our front wing range, we've needed to match the lift force of the front wing with the stabilizer. While your front wing creates vertical lift, your stabilizer has a downward acting force, which prevents the front wing from nose-diving. A larger stabilizer translates into more front foot pressure, while a smaller stabilizer equals less front foot pressure," explains Uli.
The North stabs are mounted on top of the fuselage, which helps them to avoid turbulence from the flow of the front wing, creating a smoother ride. This top mounting also gives the rider an early breach warning – the stab pierces the water surface first, giving you a better chance of recovery before your front wing gets too high. Like the Front Wings, all Sonar Stabilizers are pre-preg carbon construction, ensuring optimal stiffness and direct performance. The thin profile section reduces drag, while the material properties help maintain structural integrity and rigidity.
"Stabs have a huge influence on performance," says Mike. "As you progress to smaller wing sizes, we recommend changing to a smaller stabilizer to be more manoeuvrable. Experienced riders will really feel the difference. A new tail can have a big impact on your style."
Discover the Sonar updates here.
Italian/Egyptian Jen Tyler grew up on the sandy beaches of the Red Sea and has been on the IKSURFMAG & Tonic Mag team since 2017.
Featured in this Post
Comments