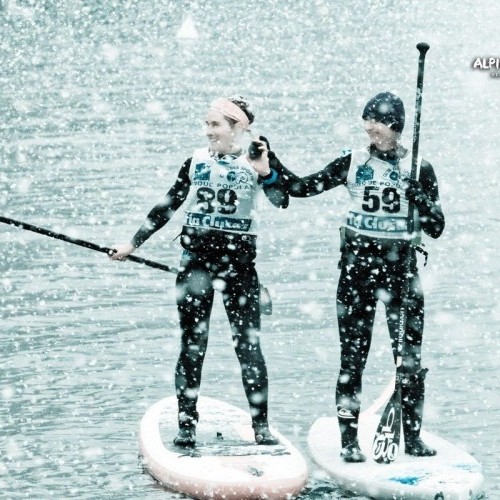 The Amazing 2018 'GlaGla' Race in the French Alps
Sun 28th Jan, 2018 @ 9:30 am
Here's one for your bucket list!
On January 20th, 2018, the 5th edition of the GlaGla Race took place in Talloires, Lake Annecy – France. Lake Annecy is surrounded by the Bornes mountains range with, just over Talloires, the Tournette, 7732 feet high. Talloires is a well preserved alpine village with a few luxurious hotels and famous restaurants, nested in a small and sheltered bay.
Every year, Paddlers join the GlaGla race and paddle in the Alps in the middle of winter, on a lake at 6° c!
In 2017, 350 paddlers from all regions of France, Europe and even a few participants from Africa and Australia, took on the GlaGla Race challenge.
This year, the numbers of participants rapidly grew and it was a big one for the GlaGla race! Traveling by car, train or plane from all regions of France and also from Spain, Germany, Italy, Switzerland, England, Brazilian and more, there were 494 paddlers that took on the GlaGla challenge.
Win a CORE XC Wing this issue in our FREE subscriber prize draw.
The Race Categories
The Long Distance
This course goes around the lake from Talloires to Duingt, Saint Jorioz, Sevrier, Menthon and Talloires again. The courses were designed to show Lake Annecy's best parts: the beautiful Talloires village with the Tournette mountain above, the Duingt castle almost in the middle of the lake, the panoramic view on the mountain from Saint Jorioz and Sevrier, the middle age Menthon Saint Bernard castle and the Roc de Cher Cliff!
The Short Distance
This course is for casual paddlers, For those who want to play it safe, the 6 km race is a good choice! The course follows a section of the 13 km course, with a shortcut after the second buoy in Duingt. Participants will get the nice view over the mountains, the Talloires village, and the Duingt Castel.
The Technical Race
This is a spectacular race in the Talloires Bay: The Technical Race will take place in the afternoon. During the 2015 edition, the participants were hit by a strong snowstorm!
Dragon Race
The Dragon Race is a very funny race on Red Paddle Dragon Boards.
This Year's Winners
The winners of the GlaGla 2018 race were Tom Auber and Melanie Lafenetre. Tom won the title with a very close finish with Leo Nika (same as what happened last year!) Right after that, Martino Rogai who was really giving it his best in the final stretch. Travis Grant had to come in fourth place, but it was still a very close win!
Melanie Lafenetre, 17-year-old from St. Maxime took the lead from the start and that's where she remained!
This incredible freezing, crazy race is ranked one of the biggest races in the world right now and we hope to see even more participants in the years to come!
Comments