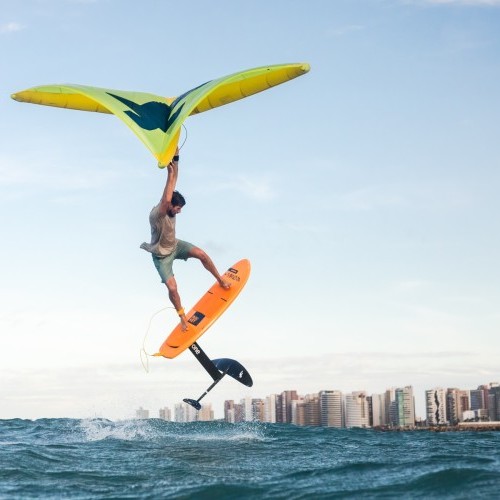 Superfoil Registration Day
Wed 11th Nov, 2020 @ 12:30 pm
The action has started here in Fortaleza athletes from 9 countries have gathered to take part in the Superfoil 2020 event. It's the first Global Wing Sports event in Ceara's capital city, thus far we have been blown away by the location and conditions. The colourful skyscrapers make a diverse change from palm-fringed lagoons, barracas, and beach buggies.
The bright and colourful theme continued into the first-ever SuperFoil Fortaleza opening ceremony. Traditional dancers welcomed our team and athletes to their city with swirling dances, glittering outfits and pounding drums.
Due to the nature of events in 2020 we've put extra precautions in place to ensure our crew and athletes are safe during their time with the GWA in Brazil. Each one of them took a COVID-19 test before being granted entry to our competition zone and GWA bubble. Thankfully everyone has been given a clean bill of health, and the event is off to a very smooth start. The event is closed to the public, and only our team and riders can enter.
GWA CEO Jörgen Vogt congratulated the riders and team members for their efforts towards making the event possible during the pandemic. During a speech at the opening ceremony, he praised their commitment to follow safety guidelines, and their dedication to the sport. It means that Wingfoiling competitions can start internationally in 2020. He thanked them for their part in bringing competitions to the water during such strange times; he believed it was a positive example for sporting communities worldwide.
After the registration and opening ceremony, athletes hit the water to get an understanding of the conditions and put on a show for our team with the spectacular sunset and backdrop. The atmosphere is electric, and every one of them is pumped to be riding in a competition for the first time, especially after so many months of lockdown!
We have three ladies registered for this event which is an incredible turn out for Wingfoiling due to it being such a new sport. Professional kitesurfer Paula Novotna from the Czech Republic, Leysa Perotti from Argentina and Liana Maia from Brazil are leading the way for women in this new sport, and the GWA is proud to have them take part in this event!
Many riders in wingfoiling come from sporting backgrounds, including kitesurfing, hydrofoiling and windsurfing. Balz Müller is a professional windsurfer, and we have a former windsurfing World Champion,  Kauli Seadi also competing in the event. Maxime Chabloz is a junior Freeski professional who is showing enormous promise in the sport, and Titouan Galea is another competitor to keep a close eye on throughout the coming days.
The event site is in a fantastic location, right on the shore-line in Iracema and the forecast for the next week is promising. Conditions are side-on-shore winds, with a nice rolling wave perfect for our hydrofoil riders. Wind can be anywhere between 15-25 knots here in Fortaleza; it's predicted to be in the upper portion of this forecast over the next week.
The competition has begun, but as we have no live stream for this event. The liveticker will be updated with results and news as and when it happens. Enjoy!
Registration is now open for the Super Foil Brasil, the GWA's first international wing foil event. Click here for more details.
Featured in this Post
Comments