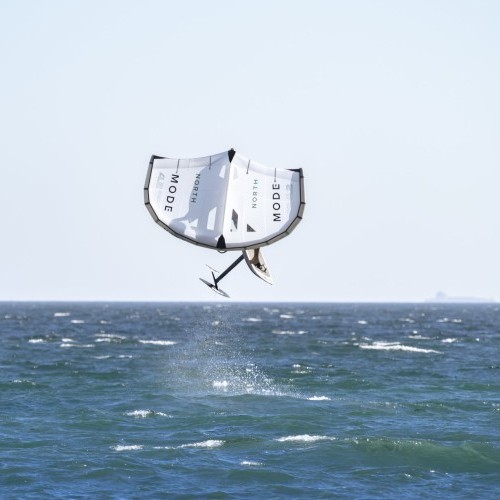 Introducing the North Mode, powered by N-Weave
Wed 21st Sep, 2022 @ 9:30 am
Introducing the all-new North Mode, powered by N-Weave. A faster, lighter and more durable wing designed for high-speed performance. The new Mode's stiffer airframe is constructed from N-Weave, a high tensile strength weaved fibre engineered by North Sails Advanced Textiles.
Designed for the most efficient power delivery on the market, N-Weave helps to transfer wind energy into greater forward speed, explosive boost and unprecedented loft.
"This is the first material technology we've developed with North Sails Advanced Textiles," says North Brand Director Mike Raper. "Using N-Weave in the inflated structure creates a faster, more responsive wing that can jump higher and hang longer. We're all blown away by its freestyle and race capabilities. The smaller sizes are designed for high-wind days when you're in full-send mode, while the super-efficient 7m is optimised for power (and speed) in lighter air. No matter what mode you're riding, this wing performs above and beyond."
"The Mode is the best wing I've ever ridden. It's a combination of power and control. Thanks to the N-Weave, it's so light that there are no limits. The freedom you have is crazy; tacks, jibes, and jumps all feel way easier." – Chucho Nonnot.
N-Weave Technology
North developed N-Weave, a new low-elongation, high tensile strength weaved fibre, to help reduce geometric compromise in inflated structures. N-Weave creates a stiffer, lighter rig that holds its shape when under load and has a highly efficient power delivery.
3x Stiffer
3x stiffer than a traditional polyester of the same weight*, N-Weave reduces structural deflection and transfers wind energy into greater forward speed, explosive boost and hangtime for freestyle tricks. *In tensile strength testing, N-Weave has 3.5x the tear strength of DLE160
11x Lighter
High modulus UPE fibre is 11x lighter than the polyester fibre of the same breaking strength. UPE-based N-Weave material is 40% lighter than traditional leading edge Dacron (175gsm).
Using N-Weave for the inflated structures reduces the overall weight of the wing by about 25%. This weight savings translates into greater performance, more efficient power delivery in light air, and makes the wing easier to handle in all conditions.
Extremely Durable
N-Weave also has a very high cut and abrasion resistance. The UPE fibres that makeup N-Weave are known for their resistance to water, moisture, chemicals, UV and microorganisms.
UPE is also known for its durability and toughness.
Biostable and watertight
North has used a recycled PET laminate bonded to the N-Weave. This goes on the inside of the inflated structures, adding to the water resistance and longevity of the material.
Designer Notes
For more information on North's Mode, please click here.
Featured in this Post
65,665
12,660
Comments