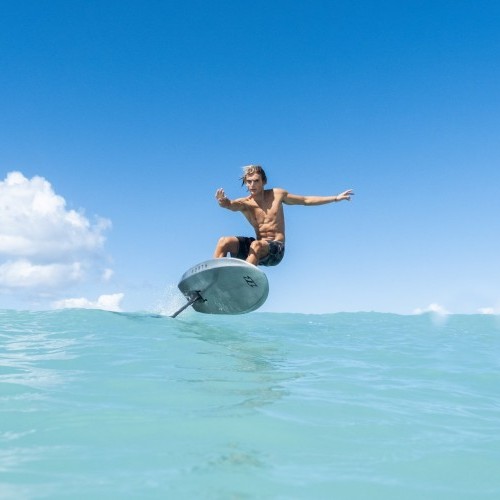 Introducing North Foils New Sonar Surf Front Wings
Fri 17th Mar, 2023 @ 9:30 am
Win a Pair of FacePlant Sunglasses this issue in our FREE subscriber prize draw.
Introducing North's new Sonar Surf Front Wings – Where effortless pumping and surf-style carving meet.
When it comes to prone surf foiling and winging in the swell, it's essential to choose a wing that provides the required lift at low speed, gives you time to paddle into waves and gets to your feet.
The North Foil Design Team has focused on finding the essential balance between lift v drag, so you can get up on foil earlier and glide for longer, at slower speeds.
The SF is an easy-to-control foil that excels in the lower end of the speed range, letting you focus on the wave rather than the challenge of staying on the foil.
We've engineered the new SF with the aspect ratio needed for efficient glide, balanced by an evolved foil section profile and refined tips for tight tips-out banking turns.
Having more profile thickness and curvature in the front portion of the profile makes it less sensitive to the angle of attack changes. So, you can pump aggressively or give it just a gentle push to experience that frictionless sensation of glide at slower speeds – no matter how imperfect or perfect your pump technique.
Because the SF front wings operate at such low speed without stalling, you need a stabilizer that does the same. The S215 was created to complement the SF front wings.
Responsive and agile, with intuitive recovery, our new Surf Foil set-up instantly heeds your every command. It enables fast progression yet won't outperform your ability.
Foiling in the surf, pumping, wakesurfing ten waves back, wing-surfing or mastering the downwind… how will you ride your SF?
Win a Pair of FacePlant Sunglasses this issue in our FREE subscriber prize draw.
Discover the New Sonar Surf Series
Full Carbon Surf Front Wings and Stab, created for prone, downwind and wingsurf foiling
The dedicated Surf Front Wings represent the highly anticipated arrival of North onto the prone foiling scene. The target audience for these foils is the surfer or wing-foiler ready to experience the thrill of foil-surfing, either with or without a wind wing. The new SF Series completes the North Sonar Front Wing offering, making all foil disciplines accessible.
This launch debuts as part of the North Sonar Foil Ride Guide campaign. As foiling becomes more complex, North simplifies your journey by providing you with the tools and equipment you need to make informed decisions best suited to your ability, weight, conditions and style of foiling.
Click here to find out more.
Featured in this Post
Comments