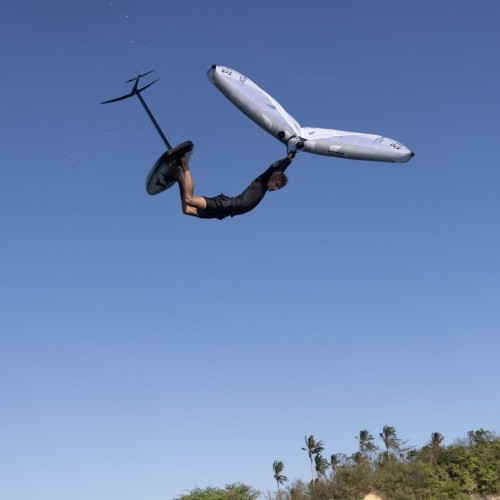 North launches 2024 Wingfoil Collection
Wed 2nd Aug, 2023 @ 8:20 am
Win a CORE XC Wing this issue in our FREE subscriber prize draw.
Our new 2024 Wingfoil Collection lives in the space between worlds, where wind meets water. We draw on advanced engineering and technology to find harmony in contradiction. So you can focus your energy on mastering these two worlds.
North just unveiled their much anticipated 2024 Wingfoil Collection! Click here to find out more!
At North, we're always reaching for more – more time on the water, more lift, more feeling, more exhilara7on. When there's even a slight shift in the wind or a small swell, we feel it and we chase it.
With the versatility of the new 2024 Wingfoil collection, you'll be ready for anything, anywhere, any time.
Featuring the refined Mode Pro High-speed performance wing, the Loft Pro Light-wind performance wing, Seek foilboard and a new mid-aspect wing foil series, this collection is designed to make foiling easy – while pushing the limits of what is possible.
Now in its fourth season of development, North leads the industry with regards to Wing design.
"Our history of innova7on and North Sails advanced material development heritage has resulted in an industry breakthrough with the elite performance of the N-Weave45," says Brand Director Mike Raper. The all new MA wings are just perfect for learning to foil. They make the sport super-easy and due to their wide range and early li8, will be our biggest seller."
Mode PRO | High Speed Performance
Win a CORE XC Wing this issue in our FREE subscriber prize draw.
North's stiffest, lightest and most durable wing draws on North Advanced Textiles technology for maximum wind range and shape-hold in extreme conditions.
The new N-Weave45 high tensile strength woven fiber with cross-ply reinforcement is 30% lighter than a traditional Dacron, its new 45- degree laminate helping to control the torsional stiffness of the airframe. New Matrix stretch-resistant canopy material is designed specifically to handle the tension of the N-Weave frame, and Carbon GripLock Handles give you a faster, more direct feel.
The addition of three new sizes (3.5, 4.8 and 6.8 m) further expands the range.
Nestled between the 4.2 and the 5.5, the new 4.8m will be an extremely popular size in a truly wide range of condi7ons, from storms to light wind.
Loft PRO | Light Wind Performance
Win a CORE XC Wing this issue in our FREE subscriber prize draw.
Carrying you through the lulls and converting the slightest puff into powerful forward momentum. The new Loft Pro is also powered by N-Weave45, North's new high tensile strength woven fiber with cross-ply reinforcement, for a stiffer, lighter rig that holds its shape when under load and has a highly efficient power delivery.
The Loft Pro also features lightweight Carbon GripLock handles to provide a more immediate, direct response and balance adjustment.
Seek Wingfoil Board
Win a CORE XC Wing this issue in our FREE subscriber prize draw.
The all new 2024 Seek features an efficient tri-plane hull design with a slight convex at the tail for a cleaner release and smoother, more forgiving touchdown recovery. We've also dropped the nose rocker, improving speed and acceleration, and rearranged the volume distribution in the board for stability – because every movement counts. With updated volumes for each board length, you can now ride a full size shorter.
Sonal Foils
MA SERIES V2 FRONT WINGS MA2100V2| MA1850V2
Simple, fun and easy to use. An evolu7on of the Reflexed Series, our new larger MA1850v2 and MA2100v2 front wings deliver a stable learn-to-foil set-up designed for winging and boat foiling. Pitch stable across the entire speed range, the MA V2 Wings feature controllable early li8 and a lower stall speed.
MA850V2
Evolving the top end of the MA series, the MA850v2 Front Wing is a mid-aspect ra7o wing ideal for all rider weights. Featuring a broad speed range and early lift for its size, without compromise to the top end, the MA850v2 has increased glide and pumpability. It is highly agile while retaining a locked-in feel for upwind/powered riding and ventilation-free tip-breachingg.
At North, we love how unpredictable the wind and the water are. Master the unpredictable with North's new 2024 Wingfoil Collection.
Featured in this Post
Comments