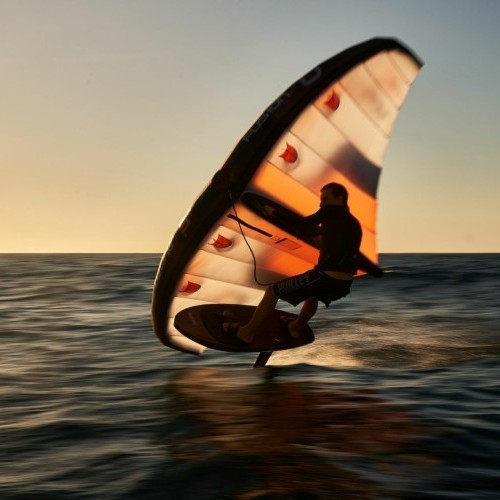 OZONE – Fusion – The First Full Double-Surface Ram-Air Wing!
Mon 6th Nov, 2023 @ 6:10 pm
Win a Pair of FacePlant Sunglasses this issue in our FREE subscriber prize draw.
The rumours are true – Ozone's Fusion wings are in production now and will be in hands from mid November!
Five years ago, Ozone launched the FUSION project. The goal was to combine our manufacturing expertise with our knowledge of foil kite, inflatable kite, paraglider and wingsuit design. Light up every session with untold potential… This is the new realm of wingfoiling and it will keep you wanting more.
Utilising all the resources of our in-house production facility, our designers collaborated closely with the most experienced technicians and material handlers to elevate aerodynamic performance to new heights.
Fusion has been achieved! The new FUSION freeride wing marks a paradigm shift in performance. Tailored to riders seeking higher speeds, dynamic jump and flight potential along with previously impossible angles up and downwind.
CUTTING EDGE PERFORMANCE: RAM AIR TECHNOLOGY, 100% DOUBLE SURFACE, INTERNAL RIBS
Ozone's experience developing efficient ram air structures meant that the design team had the background knowledge to push the Fusion, both in terms of performance potential and physical design.
The 100% double surface ram air design creates an enclosed high pressure space between the entire upper and lower surfaces. The internal rib structure supports both sail layers and helps the wing smoothly deal with dynamic pressure differentials when the wing's angle-of-attack changes.
Producing more lift, while reducing drag, means performance gains have moved in bigger steps and these improvements are revealed in far more areas than just locked-in, straight line speed. Through innovative construction techniques and the "ram air" principles integral to wingsuits, we've achieved a design that presents the wing and kite sector with a revolutionary perspective.
Live life in the fast lane: please contact your local dealer for more info and to order yours here!
Featured in this Post
Comments