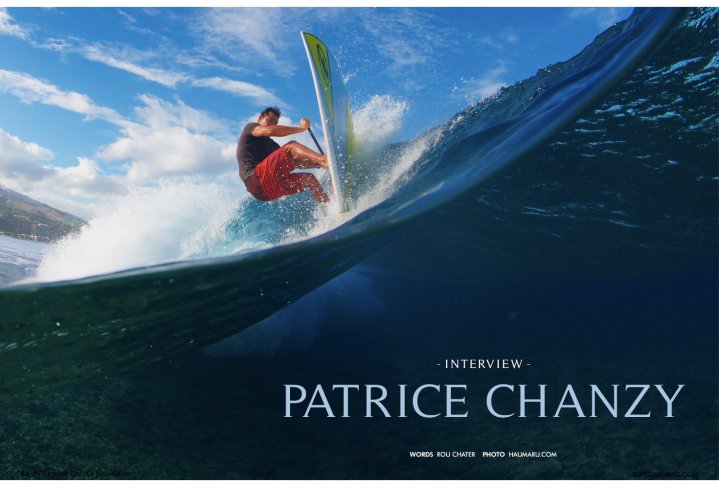 Interview: Patrice Chanzy
Issue 4 / Thu 22nd Jun, 2017
One of the pioneers of SUP in Tahiti, a lifelong waterman more at home at Teahupo'o than most we discover what makes him tick and how being there at the birth of the sport shaped his future.
Patrice Chanzy is a waterman from Tahiti, he was the cover star of our last issue and can be found saving lives at Teahupo'o as part of the Tahitian Water Patrol Team. He's one of the pioneers of SUP in Tahiti and has scored more than a few cover shots over the years. With a broad smile and a welcoming Tahitian nature, he's a rider we think you should get to know a little more!
What was it like growing up on Tahiti, are you brought up around the water from a young age?
We were always going to the beach with my parents during my childhood at a spot called Pointe Venus in Mahina. It's a peaceful black sand beach with a little break, perfect for the kids. I was four years old and was scared of the little waves. I was crying every time they put me in the water!
When I had grown up a bit, we would go fishing with my uncle everywhere around the island, and I slowly started riding those little waves with wooden boards that he made us as we couldn't afford body boards. At seven years old, I started swimming class with my cousins and learned all the basics. That's where I started enjoying the water.
How old were you when you started surfing?
I started surfing when I was 12 years old with my neighbour; we managed to get hold of some surfboards that we could borrow. After work, we would jump in the car with him to go surf on the east coast at Papenoo bay. I got hooked from the first moment I stood on a shortboard. My first surfboard was a Performance Hawaii shaped by Glen Pang. I was SO stoked! Especially with the smell of the coconut Sex Wax!
When did you first see SUP and what did you think about it?
First time I saw SUP was when Poto (David Vetea) started doing it at Teahupoo on a 12 footer yellow single fin and a wooden paddle. It looked fun, so I wanted to try it.
I remember the first time I tried was with Raimana Van Bastolaer and Laird Hamilton when he came to Tahiti with his 11-foot longboard SUP. The same ones he was charging Teahupoo with and got barrelled on. I got hooked, and my first SUP was an 11-foot longboard SUP Infinity single fin. I got barrelled on it too.
How did the surf scene react to SUP when it arrived on the island?
SUP was like the evolution of the sport of wave riding. Something new to try, maybe a second breath. Many longboarders just jumped on it because they found it super fun and a good body workout. Of course, they could catch more waves; it was even easier too. Naturally, all the surfers got mad at them at certain beach breaks, now the paddlers know where to go, and we can get to waves that the surfers can't easily access.
What do you like most about SUP compared to other water sports, are there any advantages to having a paddle in your hand do you think?
I think SUP is perfect for staying fit and it compliments shortboard surfing. It's good for your balance. Standing up on the water is so comfortable, and you have the best view. It's a way to enjoy the ocean and your surroundings. In the surf, you see the wave coming, and you can move faster than the others to catch it. That is a good thing…for me, it is another way to ride a wave, with different lines and carves. I just love it.
We often see the huge barrels and riders getting massive waves in the images that come from the island, but what about the regular paddler with a bit of experience in the waves, are there spots for everybody or is it only for the very experienced?
Yes, there are many different breaks with various styles of wave from super hollow to super mushy. Paddlers can choose where to go according to their level. I like to ride anywhere from small to big waves and of course barrels. It's so fun and exciting to go to different spots with different boards. It's never the same. In Tahiti, we mostly see paddlers at the beach breaks; it's safer. Some reef breaks are more mellow, so you see them there sometimes.
Teahupo'o conjures up fear in even the most experienced riders, what's your approach when you are out there and is it different if you are surfing or paddling?
Teahupoo is heavy and scary. You have to be at the top of your game when you go there. I used to surf it a lot. It was challenging because sometimes you don't see the bigger one behind that can break on your head if you miss the first one…
When I started paddling over there, I think we had some craziness with Raimana and Poto for who could get the biggest, deepest barrel on our paddleboards. We were pushing each other! You just go for it; you have to paddle as hard as you can on your 9'5 to make the drop. You cannot afford a late take off there; the wave breaks so fast. You really don't want to hang about, if you hesitate you break everything, get smashed and resurface in the lagoon…
What makes it such a challenging wave to ride?
It's a tricky wave to ride because it's so hollow, heavy and fast, it breaks on a shallow reef especially on a west swell. You have to control your SUP in a thick barrel; it's tricky but exciting to make it.
How do you deal with the fear aspect when it is big, it's a pretty intimidating place right?
Of course, it is intimidating. However, you know you are physically and mentally prepared for a big day if you train hard. That makes you confident and ready to charge the big waves.
You work as a lifeguard on the Tahitian Water Patrol Team; do you guys cover all the beaches in Tahiti or just the main breaks?
It's an honour to be lifeguard on the Tahitian water patrol team. We mainly cover the Teahupo'o Pro by Billabong. I also managed the Taapuna water patrol team for our Taapuna Master Contest at a different reef break. Some of us take care of other surf contests on reef breaks too. We don't really have lifeguards on beaches yet in Tahiti; it's not like in the Australia where they have them everywhere!
You were part of the rescue crew for last year's Billabong Pro event at Teahupo'o, and the swell was huge, how tricky is it to run the surf skis at such a location when it is big?
It is tricky to drive the jet skis out there. You have to know how the wave breaks on the reef, when and where to go if you want to cross the barrier to go in the lagoon…timing is key. When it's big, there is more water but more movement with currents and tides. It's like driving on a road with holes; you have to watch carefully if you don't want to get stuck.
Have you ever had any scary moments where you got the timing wrong and got clipped by the wave on the ski?
Yes, the wave can catch you sometimes, but you always manage to escape it. You are prepared for these situations as we train for it, and you know what to do though.
What was it like having Kelly Slater jump on the back of your ski after he won the event?
Kellly is a freak. When he jumped on our ski, I just congratulated him and checked his board to see what he was riding; it was a tiny board! It was very cool of course.
Being part of that team must be up there as one of the most critical jobs in the world, you guys are putting your lives on the line. What kind of training do you do for the job, and is it a constant effort to stay on top of not only the fitness but also the technical aspect of first aid, ski driving and maintenance and everything else?
It is a special job that I love. You have to stay fit for what the ocean brings you. We surf, swim, bodysurf, paddle a lot. We train on jet ski rescue techniques and first aid stuff.
Poenaiki Raioha is arguably Tahiti's most famous SUP export, what gives him the ability to ride at the level he does?
Poenaiki is just naturally a talented rider. He just needs to keep that spark going and push some more limits.
Are there any other young, up and coming Tahitians we should be keeping an eye out for?
For me, he is the only one for SUP.
SUP has changed a lot over the last few years; the equipment keeps getting better and better, what's your favourite board to ride at the moment?
The Papenoo Pro is the FUN one. The speed you get on it, and it is so reactive. I love it.
Where do you see SUP heading in ten years?
For a surf purist, I think SUP will still be evolving with new shapes and board materials. Lighter, narrower, more stable, perfect flex. The guys will go faster in races. The SUP surfers will boost bigger manoeuvres and airs and go deeper in barrels.
Describe your perfect day in Tahiti…
My perfect day in Tahiti will be: waking up, check the waves from my window, eat breakfast, get my SUP in the truck and drive to Taapuna on a perfect 2m day, and get barrelled with friends all day long!
Is there anyone you would like to thank?
I would like to thank my little family first for the awesome life we live in Tahiti.
The F-ONE International team for helping me to live my passion on the ocean.
Everyone, friends who share my life… Thank you for being there.
Thank you, SUP Tonic for the SUP stoke!
Thanks so much to you Patrice for taking the time to chat to us!
Videos
Rou Chater has been paddleboarding for the last six years, and he is passionate about riding waves and exploring new places. As the publishing editor, he oversees everything at SUP Tonic but also our sister magazines IKSURFMAG and IMB. He's been on the water since he was born and has never looked back, in the winter you'll find him chasing swells in the Caribbean and during the summer he can be found all over Europe at various SUP, Kitesurf and Mountain Bike events getting features for the magazines.
Comments