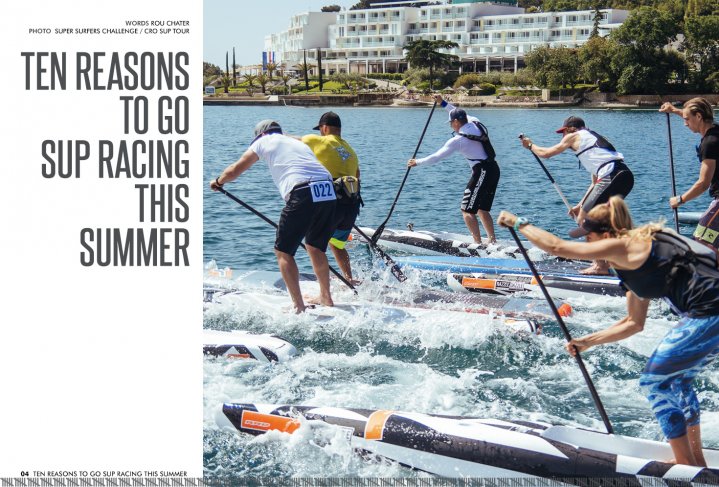 Ten Reasons To Get Into Racing
Issue 4 / Thu 22nd Jun, 2017
Stepping up from being someone who just messes about with a paddle for fun to someone who adds a little more focus isn't as daunting as you think, racing is a great way to improve your SUP game, find out why here.
Rou Chater looks at ten reasons why you should get into racing this summer. Before you skip over this, thinking racing isn't for you, take a moment to read what he has to say. Racing is for everyone, and it's the fastest way to improve your paddling technique and fitness, plus we can almost guarantee you'll have a blast and make some friends along the way…
It's Fun
First and foremost, don't be put off racing by thinking you have to be some highly trained mutated athlete with a stroke rate of over 50. Racing is quite literally for everyone; it doesn't matter what age, size or shape you are, we are all capable of filling in a form and entering a race. Once you cross that initial hurdle, you'll be amazed at how much fun it is.
For sure there are the usual pre-race nerves, which some might find off-putting, start line jitters can be an issue for some. Perhaps the thought of not being good enough and coming last is what is stopping you from signing up. However, only once you overcome those issues will you discover just how much fun racing is.
Whatever your level there will always be someone around the same standard as you, and as you battle your way round the race course, you'll find yourself laughing at your mistakes and those of the other paddlers around you. Racing brings out some classic comedy moments that can all be enjoyed afterwards on the shore, preferably with a beer in hand.
The whole race weekend is always geared up to ensuring the competitors have the most fun on the water. By creating a fun and enjoyable environment, the race directors want you to come back again and again. After all, that is how they make their money, giving you a fantastic time and ensuring you tell all your buddies to come and join you at the next race.
You'll be amazed at how friendly everyone is, from the organisers and race team to the other competitors; in fact, it's arguably the best way to make life long friends out there, but more on that in a minute…
It Will Keep You Fit
We all paddle for different reasons, however, a key one for a lot of you is fitness. I rate paddle boarding as one of the best fitness activities around. I try and train my body every day whether that is running, kitesurfing, mountain biking, working out in the gym or paddle boarding. Without a doubt, for me, paddle boarding produces the best all over body workout with the most amount of enjoyment thrown in.
However, when you add the focus of a race date to your paddle career you instantly step things up a gear in the fitness department. It's human nature to want to be prepared, so once you sign up for that first race, you'll find you don't make those excuses about not getting on the water. You might even change your diet and start getting fit in other ways too.
Having a goal in your life radically changes how you approach things, so having a race date in the diary will hone your attention to getting fit like you wouldn't believe. If you just paddle recreationally, we reckon you can increase your fitness tenfold by adding a race date and getting serious about training for that race. The best bit is that the easiest way to get fitter for paddle boarding is to go paddle boarding! You'll be looking trimmer, paddling faster and spending more time on the water as a natural result of signing up for a race or two this season!
It doesn't have to be about the latest gear
Another reason would be racers are often put off is because of the equipment involved. 14-foot carbon race boards don't come cheap, and they certainly aren't easy to move around! However, almost every race will have a few different categories within it. Usually the more advanced 14' and 12'6" classes, but also inflatable race board classes and more often than not a sub 12'6" round nose class for recreational boards.
For sure at the top level of racing the equipment makes a real difference, but in your early career rocking up on your 10'6" inflatable all-rounder won't be a massive barrier to entry when there are plenty of other racers on similar craft! Of course, as you get more and more involved in the race scene you might want to progress to faster classes, but as the inflatable classes are proving, it doesn't have to be prohibitive.
There are races happening everywhere
There really are, your local SUP club is probably organising them, plenty of them have regular race nights taking various shapes and forms, and this is a great place to get involved. At a larger level, there are regional races happening that you might need to drive to get to. A quick Google search will yield thousands of results with lots of websites featuring calendars with details about the event and how to get involved.
If it's your first race, then be sure to be mindful of the race class you want to enter and ensure the chosen race features something suitable for your board and skill level. It's also worth bearing in mind the rules of the race too; you want to go there prepared, often there will be a requirement for floatation and a leash as a minimum, sometimes 3rd party insurance too.
Once you choose a race that looks like it is a fit for you, be sure to check the rules and adhere to them so you can arrive on the day and take part!
Inflatables are making it a reality
For years I was put off getting a race SUP, for reasons I am sure many of you will sympathise with. I just don't have the room for a 12'6" board in my house, my garage is already full, and I just couldn't justify the expense and storage implications.
As inflatable technology has moved forwards suddenly owning a race SUP doesn't seem like such a pipe dream! Nowadays inflatables are really stiff and very very good at going fast. Jacopo Giusti from RRD races at European level and he thinks the new 14ft race SUP inflatable from RRD is almost as quick as the solid carbon board. A point he proved by coming third in his last race in Italy on the inflatable while all around him were using hard boards.
For sure a solid board is going to be better in really rough waters, although Jacopo thinks the flex of an inflatable in the chop is offering some interesting advantages. You can be competitive on an inflatable, and you can certainly have a cracking race against other inflatable race boards. Then at the end of the day, just roll it up and put it in the boot of the car and chuck it under the stairs at home ready for the next race weekend!
In our view, for most paddlers, inflatable race boards are the future!
One Design Fleets like the Naish N1SCO series make it about the rider
If the kit issue is still bothering you then check out the One Design race classes out there. The Naish N1SCO series is hugely popular with races all over the world. The idea is that everybody uses the same equipment and then this makes the race about the rider and not the board you have.
The benefits of these races are obvious; it's a level playing field where the credit card won't help you win. You'll be pitting yourself against the racer next to you, on the same equipment as them; it will be just your stamina and skill that separates you from the rest of the pack!
Some of the race series have demo boards for you to use too, so you can register for a board before the event and then turn up and ride it for the race. It's a great way to get people into the fun aspect of racing and get them hooked. Most organisers reckon they go on to sell boards to the riders who try them and get to experience the race first hand.
You'll make new friends
We touched on this earlier, but there is nothing quite like the camaraderie of a race. You'll meet new people, get chatting about gear and training schedules, laugh at how little training you've done, despite your best intentions, and then go on to cheer, encourage and laugh your way through the event.
You are all in the same situation, dealing with the same elements, the weather, the water state, the other riders, it becomes a real melting pot for conversations and making friends. Our top tip for race events is to be bold, say hello to everyone you meet and do your best to remember their names. We learned a really great name remembering technique during an instructor's course years ago, but then we forgot it, so we can't help you there!
If the race is part of a series, you'll be seeing the same faces for the duration of the events, and often this is where you can help each other with lifts, tips, technique, spares, or even some energy bars. Being out in the fresh air experiencing all of this for a couple of hours is worth an entire lifetime on Facebook in the friend's department!
You will become a better paddler
In your first race, you might not do as well as expected. However, the thrill and buzz of racing will, we guarantee you, get you hungry for more. At the next race, you will want to do better, and this yearning for self-improvement will continue with every race you enter.
As a result, you'll be looking at you paddling technique, different strokes, working on your fitness, practising skills like buoy rounding and starting. You will find yourself working on these elements and drilling them time and time again to make them better. All of this will make you a better paddler, and being a better paddler is something we all aspire to be!
You'll discover new places
It's all too easy to keep going to the same spot and paddling the same routes over and over. The demands of a race series, though, or even just one race if it is out of your area, will force you to go and explore new spots. The grass isn't always greener, but having a wider outlook on the world of SUP and where you can do it is not a bad thing.
We've paddled in places we would never have dreamed of purely because a race pulled us to that location. Sometimes it's amazing, sometimes it's just OK, but every adventure we undertake is taking us out of our comfort zone, broadening our horizons and showing us just how big and wonderful the world is out there!
You might just become a World Champion…
Every world champion started out as a beginner; they had to learn the ropes and then hone their skills. No one was born a champion; it takes hard work and grit and determination. You never know you might like racing so much it inspires a drive within you that leads to great things.
Whatever happens, it's the journey along the way that will prove the most enjoyable, the friends you will make, the places you will go and the memories forged in the midst of competition will be with you forever.
If you do become a World Champion after reading this in a few years time, be sure to remember us and give us first refusal on an interview for the magazine!
Videos
Rou Chater has been paddleboarding for the last six years, and he is passionate about riding waves and exploring new places. As the publishing editor, he oversees everything at SUP Tonic but also our sister magazines IKSURFMAG and IMB. He's been on the water since he was born and has never looked back, in the winter you'll find him chasing swells in the Caribbean and during the summer he can be found all over Europe at various SUP, Kitesurf and Mountain Bike events getting features for the magazines.
Comments