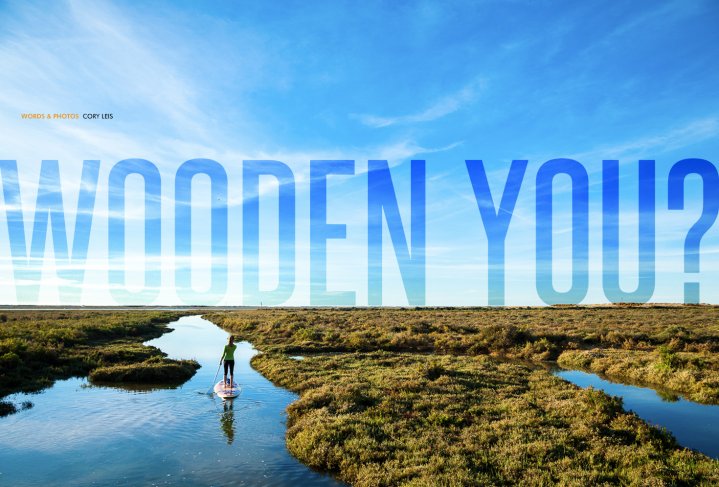 Wooden You
Issue 4 / Thu 22nd Jun, 2017
Cory Leis heads off on a voyage of discovery in Portugal, building their boards from wood and then paddling them around some of the most stunning scenery you could imagine!
It was the beginning of a fairy tale; meet a hippie surfer hand-building beautiful wooden surfboards along the central coast of Portugal. Convince him we should design and build a few 10'6" adventure SUPs, continue his tradition of planting a tree for every new board and take the hand crafted boards on a coastal trip and paddle your brains out. Ze, an extremely passionate, spiritual and giggly fellow, just couldn't say no, even though he'd never designed a board over 8' and we didn't know if the rocker table would fit in his garage.
There's an otherworldly connection surfer's have with the ocean environment that can sometimes feel like a conundrum, what with the heavy weight of non-sustainable products littered within the surf lifestyle. The surfboard itself, of course, leads this crisis and when the shear size of a SUP is taken into consideration opportunities to work with natural materials becomes even more enticing. Ze's board building process, with virtually zero waste, encourages any surfer, or SUPer, to enjoy the lifestyle with an even deeper connection.
Ze lives on a small property minutes away from the charming medieval castle of Obidos, a piece of Portuguese history dating from the 12th century. He's spent years working his land in the hopes of living off the fruit, veggies, chickens and goats thus providing interested board builders with an experience that was both wholesome and real. Some days we'd spend hours on the property, feeding the goats, trading swell forecasts and tales of recent days chasing waves along the coast, tasting new fruits ripening on the trees, all without even working on the boards. I'd leave and think, shit, I forgot to pick out the wood for the top sheet.
One accepted technique in current wooden board construction is to use stringers, or ribs, with relief cut out to create both strength and weight savings in a 'hollow board'. Ze imagined we could take this one step further, hand cutting and glueing each rib separately, two at a time as we were building two identical boards. This gave us an amazing strength to weight ratio, and although it was a rather slow process, our boards weighed in at less than 12 kg.
Our love of adventure paddling, as we'd done throughout the Pacific Northwest and our little hamlet of Whistler, BC for the last 6 or 7 years, led to design elements including in-laid tie downs both bow and stern, and even a separate clinger for a water bottle, as we consistently leave nothing at shoreline. After all, the more you can take the more fun you're going to have. Moments after the plant-based epoxy was cured we were heading south, locked and loaded in anticipation of paddling a warmer climate and glassy waters.
It certainly didn't disappoint; Portugal is not just salted cod, port and sardines. The country boasts a coastline dominated by steep, sometimes inaccessible cliffs with point and reef breaks, tidal pools and a multitude of ocean inhabitants to discover. We decided to point the van straight down the middle of the country, through rolling vineyards and olives trees perfect for culinary pit stops, our eyes set on the southern most town of Faro with warmer days and calm waters.
The Algarve, with natural limestone cliffs and endless sea caves, provides unparalleled full-day adventures with stunning backdrops for the intrepid paddler. Access is through one of the many shell shaped beaches that line the coastline where the only other movements at sunrise are the local fisherman heading out for the day. Loaded with food and drink for hours of fun we began our first paddle near Lagos, a centuries-old city where many of Portugal's famed explorers set off for the new world. Surrounded by caves and grottos that stretch out between small fishing villages that survived for years on the bounty of the Atlantic, it wasn't surprising we would leave at sunrise and return as the sun was setting.
Opposite these dramatic cliffs are sea boulders offering perches where seagulls and other marine birds make their home, including the impressive peregrine falcon and the kestrel. The caves seem to amplify the sounds of sea life and the tides, offering a symphony backdrop as you paddle into the entrance of these natural wonders. We paddled east, into the Algar de Benagil, Zorreira, Gruta do Capitão and through the Arcos de Marinha. Around every corner the coastline seemed to draw us into another paddle stroke, our eyes wide open to the jaw-dropping beauty. We didn't want to stop paddling, and each night we'd drag our sun-kissed bodies into bed exhausted, salty and full from the catch of the day.
As we rounded the point at Faro, we left the dramatic seascape behind to find shallow waterways and the protected estuary around the charming town of Olhão. Portugal's largest fishing port, the majority of clams are fished here throughout the low islands separating the estuary from the open Atlantic. We managed to find quiet hideaways to camp ocean-side and awoke to breathtaking sunrises that would leave us scrambling to get onto the water.
The mornings were quiet, again occupied by small fishing boats winding their way through the passages. On a few occasions, after discovering many of the islands on foot, we'd have strong headwinds on our return to our camp, leaving us hungry for delicious shellfish feasts. We paddled our brains out, and after a week decided to turn inland up along the Guadiana River to Alcoutim to rest our spent bodies and immerse ourselves in the rich history of the area.
Winding our way north, days were spent exploring castles, tasting wines made from varietals not known outside of the country with local fare that had been paired for decades. Soft and unripened cheeses, pork cured using ancestral techniques, Pastéis de Nata they told me had come from the hands of monks; it all seemed too good to be true, I was filling my belly and cleansing myself at the same time.
Hundreds of years of ago we could have paddled right up to the Obidos Castle sucked back a couple of ginjas and sharpened our swords for a potential skirmish. However, now that the lagoon has retreated several kilometres to the south we'll have to leave our Game of Thrones fantasies behind and head to the yearly festival for a dress up. Swords are now extra. Paddling the lagoon, we left as the sun was rising and both giggled at the thought of what we'd be wearing 400 years earlier. To this day, the locals still live off its many species of fish and clams, paddle, sail and explore the salty bays and inlets. It's as much a part of daily life now as it was then.
This was without a doubt one of the most memorable SUP adventures we had embarked upon. From chancing upon Ze and creating our wooden craft, to the stunning scenery found along the way which ended with culinary delights and ancient history at the castle gates. The core of this trip was arguably where it all started, crafting those boards from scratch and creating the pleasure craft from which we could enjoy Portugal to the fullest.
Time is a funny thing, and everyone values it differently. The opportunity to find a deeper connection with an environment so dear to us, while learning on a somewhat basic level of everyday living from a unique individual presented itself, and we jumped at it. Wooden you?

Comments