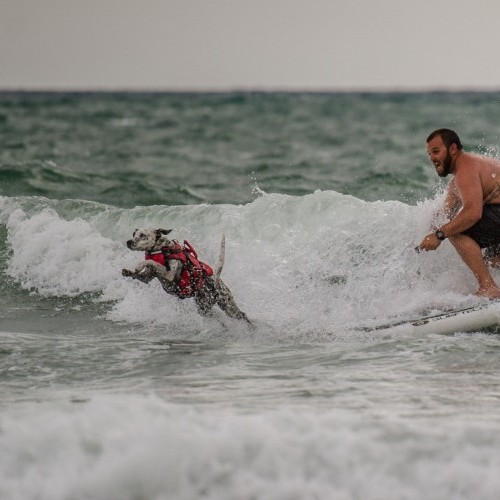 SUP Surfing has gone to the Dogs.
Features / Wed 21st Sep, 2016 @ 4:00 pm
SUP surfing has gone to the dogs, especially in Jupiter Beach, Florida…We all love dogs here at SUP Tonic, almost as much as we love SUP boarding…
We were stoked to bursting when we saw the Hang 20 Surf Dog Festival, at Jupiter Beach Florida. A major SUP destination on the east coast of the USA, once a year, paddlers give way to the their four legged friends.
Making events like the Hang 20 Surf Dog Festival so successful are surf instructors like Sam Chiet of SurFur Dogs. Sam is a lifelong surfer and started teaching dogs to surf with the local surf shop Ocean Magic. They hosted the inaugural event in 2015.
Proceeds from the event benefit Furry Friends, a local no kill animal shelter. When Sam heard this, he was all in, volunteering his time to teach Golden Retrievers, Pits, Beagles, Chihuahuas, Shepherds, and everything in between how to Hang 20.
Known as the Dog Surf Whisperer, Sam initially encourages the pet's family to get in the water with him so they feel comfortable. Often, he says, "It's the humans more uncomfortable in the water than the dog. Once the dog gets his balance and begins to trust me, I can then give him the confidence needed to surf. It's amazing to watch the transformation and pure joy they experience riding the board."
Great job Sam…
Wed 21st Sep, 2016 @ 4:00 pm
Lori Griffith is a photographer and writer from Jupiter, Florida. She has a passion for SUP that knows no bounds and is an integral part of the scene at her local beach. When Lori isn't riding, she is shooting photos of whatever catches her eye. "I hope to share with you the world through my lens, and hopefully connect with you to see the beauty that is all around us. It's like the old saying 'stop and smell the roses'. Well, we all need to pause and appreciate our surroundings for their humour, their beauty, their uniqueness."
Featured in this Post
Comments