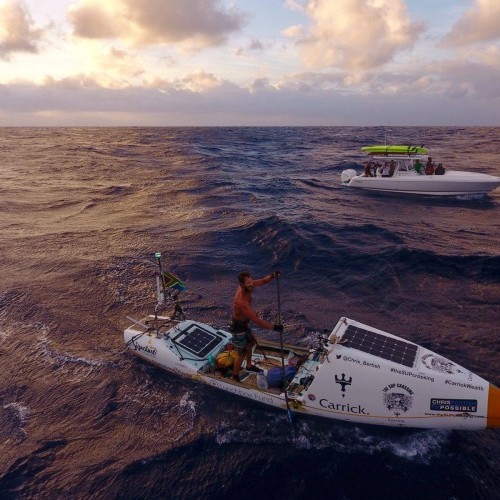 I'MPossible – Chris Bertish Paddles Across the Atlantic
Thu 9th Mar, 2017 @ 4:07 pm
Unbelievable, incredible, I'MPossible! Chris Bertish has made landfall in Antigua 93 days after leaving Morocco paddling an incredible 7,500km across one of the most hazardous stretches of water on the planet. He made the trip solo, without a support vessel living alone on his custom made #Impfish paddle board. He's taken over 2 million individual strokes to do it and raised over R6,500,000 for charity so far and hopes to raise even more when he finally gets back home to South Africa.
If you're ever looking for inspiration, this is it right here!
"It took everything I had for over 5yrs, just get this project up and myself to the start line in Morroco after building the #Impifish for this specific goal and purpose in England! Then it took every fiber in my being to get through each and every day & every never ending night, day by day, stroke by stroke, over 2Million, as I paddled smiles across the Atlantic and onto the faces of millions of little children in South Africa… I took everything to stay alive for 93days and to finish this, as giving up was never an option!"
He's broken three world records in the process and inspired thousands of people around the world to think a little bigger. He's had to endure storms, spend a lonely Christmas aboard the #Impfish and work constantly to keep himself fed and watered while being entirely self-sufficient. The daily grind of keeping the #Impfish, himself and the dream going never got him down and he remained positive to the last.
Win a Freedom Foil Boards Techno this issue in our FREE subscriber prize draw.
"The last 72hours has been the most testing of almost the entire Crossing due to weather and the angles for the final approach."
This has to be the greatest achievement anyone has ever made in the sport of Stand Up Paddling and it makes us wonder what's next. The fact that Chris has proved just what is possible will no doubt open up the doors to a myriad of other adventurers who suddenly don't feel the barriers are quite as big as they used to be.
Chris has been busy logging his progress on his FB Page which is worth a look, there is so much inspiring content on there it is hard to convey it all in one post. Check it out and look forward to the full book about his adventure which will be coming out soon. In the meantime if Chris's story has inspired you, or you just feel like he deserves it then please take a moment to donate to his causes on his website.
The SUP Crossing website is HERE
We'd like to say a huge well done to Chris in his amazing achievement, a truly amazing individual with an outlook on life that is to be commended. Enjoy those beers!
"Bringing it all in and bringing it home…Full Circle! Now do you believe in I'mPossible!" – Chris Bertish
Comments