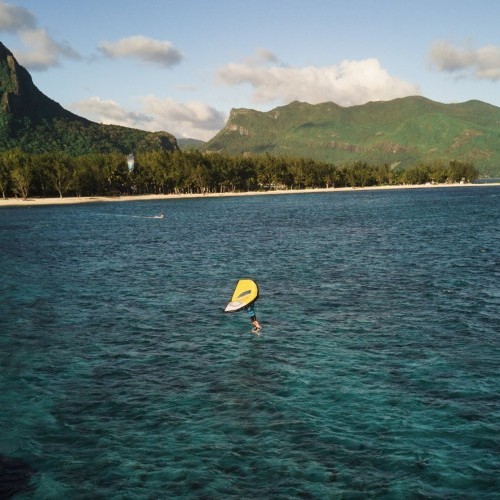 Ozone | WASP V3
Tue 3rd May, 2022 @ 12:30 pm
Whether you're into winging on a foil, surf, snow or skateboard, Ozone's 3rd version of the Wasp has got your back! The WASP V3 is a great and powerful all-round wing that feels at home in every discipline. It is lightweight, simple in construction, uncomplicated in handling and comes with improvements to the power grips, depower surf grip, window, strap for the hip leash, sail material and an updated size grading. So whether freeride cruising, surfing, big air tricks, down-wind tours, or just getting into the sport – the WASP V3 is ready when you are.
Our innovative front tube and strut construction offers a stable frame with minimal flex resulting in a solid, direct and well-balanced feel. This stability also helps generate power, especially at low speeds, to get on the plane sooner. In addition, our new overlapping flatlock seams improve sail control and create a cleaner sail surface.
New ergonomic power grips on the leading edge and strut are now stiffer to give you more control and comfort. The depower/surf grip, located at the very front of the front tube, has been redesigned to increase control when holding the wing in one hand. In addition, it now has extra finger padding for more comfort. Finally, valves with a large volume flow on the front tube and the strut make inflation and packing a breeze.
The sail area and the shape of the wingtips reduce interference contours to the ground or the water. Protective pads have been integrated for driving on snow or land. Nevertheless, it is always advisable to keep the wing away from the ground or other obstacles! Enlarged windows on both sides provide security for you and others.
The WASP V3 is suitable for any board type on the water with enough volume to support your body weight, including clothing. If there is a lot of wind and appropriate skills, a smaller hydrofoil board can also be used. On land or snow, the minimal wind is needed to capture the natural energy and enjoy a different, new sense of propulsion.
The WASP V3 is made with our new triple rip-stop material combination. The unique triple rip-stop sail material has an advanced coating that increases stability, stiffness and durability and improves feedback transmitted to the rider for a more direct feel of the wing.
The new technical rip-stop Dacron is super robust and is used on the front tube and struts. It improves strength, durability and longevity.
For the V3, we have updated our bag and given it a second adjustable shoulder strap with shoulder pads for a more comfortable carrying of a board with foil.
For riders who ride harnesses, woven loops are positioned right next to the power grips for quick and easy attachment of the WASP V3 Harness Line – a thin and lightly constructed bungee line contracted when unhooked to keep it out of the way. Combined with our new Connect Wing Harness, it results in the ultimate setup. Note: To use the WASP V3 with our Connect Wing harness, our specially developed WASP V2/V3 harness line (optionally available) is required. Also, look at the wing leash system and the PDF for the harness line.
Our modular leash system can be customised to rider preferences. The WASP V3 comes standard with a hip belt attached to the leash line. The improved hip belt now has an additional Velcro strap that runs over the buckle to reduce stress on the buckle when carrying heavy loads. Accessories for the leash system (optionally available) are a wrist strap with Velcro or a release system for use with the supplied hip belt or when attaching the leash line to a harness.
The WASP V3 features a new triple ripstop material combination. The new overlap flat seam construction improves sail control and results in a cleaner canopy overall.
Easy view viewing windows on either side of the cross strut provide security for you and others nearby.
Our Direct Connect construction improves load distribution between the leading edge, struts and canopy. Struts connect directly to the leading edge with internal and external reinforcements. This unique construction method ensures that the optimal cap tension maintains clean profiles.
Discover Ozone's V3, right here.
Win a Naish Wing-Surfer ADX this issue in our FREE subscriber prize draw.
Featured in this Post
Comments