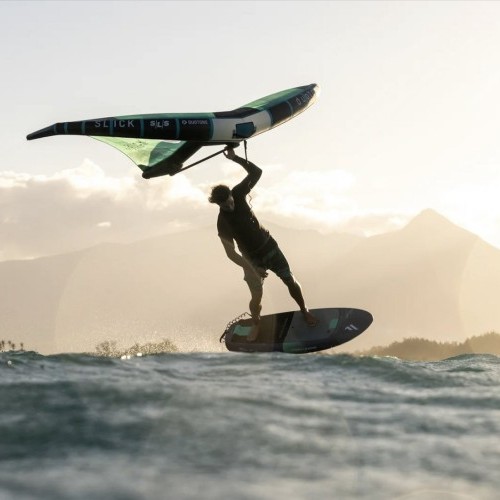 In Focus: Fanatic NEW SKY TE RANGE 2023
Thu 8th Sep, 2022 @ 9:30 am
Fanatic's new range of Team Edition models – SKY SURF TE, SKY STYLE TE & SKY FREE TE – combine their light and strong premium Carbon PVC Sandwich construction with the next generation of shapes for all levels, rider profiles and disciplines. With extra stability and improved responsiveness for turns and jumps combined with easy take-off and landings – these are the boards ridden by their Pro Team and the perfect choice if you're looking to unlock the next level in performance! Read on to find out more.
SKY SURF TE 2023
Our Sky Surf TE combines prone foiling and radical winging in three shapes ranging from grom to mid-weight ripper.
The Sky Surf TE received a complete re-design with concave rail bevels, a new outline and rocker and a slightly recessed deck shape. The updated rocker line places the foil at the ideal angle of attack for early take-offs, and the recessed deck shape provides extra stability while also maximizing pumping efficiency with an optimized deck angle. The pulled-in tail outline and high concave bevelled rail shape allow for the most radical turns anywhere on the wave without those annoying touch-downs and provide an easy rail to grab for duck dives. Slightly more compact in length and with an extra small size added to the range; there's a board for everyone from high-wind jumpers to prone foilers of all levels.
The mini-rippers will love the new 25L 4'2" featuring additional foot strap inserts for smaller riders with a narrower stance.
Win a Freedom Foil Boards Techno this issue in our FREE subscriber prize draw.
Please click here for more information on Fanatic's SKY SURF TE 2023.
SKY FREE TE 2023
Our new Sky Free Team Edition was designed for riders looking for the easiest board to improve in wing foiling paired with the best technology, performance and weight out there!
Our Sky Free TE is the evolution of our popular Sky Wing range – the bestselling wing boards on the market! With early planning rocker lines, sharp release edges and without unnecessary shape gimmicks – these boards embody pure function with a flowing outline allowing tight turns without catching the rail, yet having the width and glide to get you started and flying with ease. The deck recess and high-volume nose offer extra stability, which allowed shaper Sky Solbach to shorten the length in the respective volumes vs the 2022 Sky Wing models without sacrificing the ease of use these boards are famous for, resulting in a board that offers an even more compact and direct foiling sensation.
Offered in two sizes in our uncompromised lightweight Carbon PVC Sandwich construction, there's simply no board that gets you up and going earlier in the lightest of winds.
Win a Freedom Foil Boards Techno this issue in our FREE subscriber prize draw.
Please click here for more information on Fanatic's SKY FREE TE 2023.
SKY STYLE TE 2023
The name says it all! These models are designed to evolve your style – whether in the air or in the surf, pushing your wing game has never been so easy!
The Sky Style, available in four sizes from 55l to 85l, has been designed to maximize stability when starting and landing tricks and improve turns, reactivity and take-offs for jumps. The higher rocker line of the Sky Style greatly improves turning response through increased leverage over the pitch of your foil, resulting in faster and more direct reactivity. The more "nose-up" riding style is ideal for starts and landings and improves the flying and turning behaviour of your foil when drawing lines in the surf.
The deep deck recess with a high-volume nose section offers incredible stability for landings and creates a stable and balanced platform for sinking starts for riders using the Sky Style in a volume that doesn't fully float their body weight. The higher nose recovers remarkably well from steep landings and makes it much easier to load up for jumps by providing more distance between the nose and the water to prevent catching.
Win a Freedom Foil Boards Techno this issue in our FREE subscriber prize draw.
Please click here for more information on Fanatic's SKY STYLE TE 2023.
BEHIND THE DESIGN
To learn more about the design background, we sat with our Shaper Sky Solbach and Product Manager Max Pajank. Read the article to find out more about the R&D process of these amazing new boards here.
Thu 8th Sep, 2022 @ 9:30 am
Featured in this Post
Comments