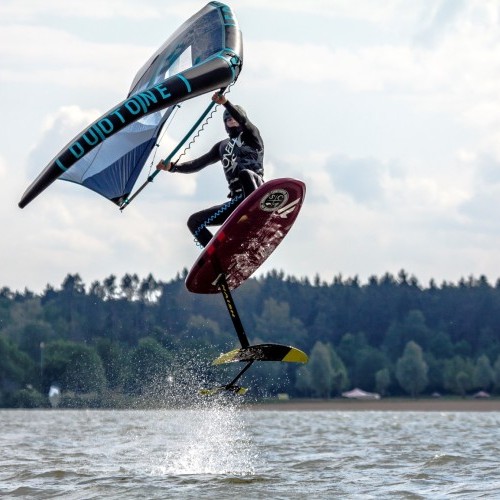 King of the Wing 2020 Results are IN!
Thu 8th Oct, 2020 @ 9:30 am
The wind was on fire and the action was on this past weekend at Surf center Altmühlsee in Germany! Perfect conditions for the King of the Wing event, powered by the GWA.
The King of the Wing 2020 was an all-around perfect event with Race and Freestyle competitions for the seasoned wing-foilers, and wing testival and rider meetup bringing the community together.
Saturday saw perfect wind to complete the single elimination in the wing-foiling Race competition, with Henning Nockel leading the scoreboard, leaving David Martin (second place) and Carsten Kurmis (third place) trailing in his wake. The wing-foil Freestyle competitors were less lucky the next day with dwindling winds, but the organiser reacted promptly. Instead of the regular Freestyle competition, the format was switched to a Super Session in the afternoon so competitors could show their best riding and most innovative tricks.
Three categories were up for grabs in the Super Session: Best Jump, Best Glide and Best Style. Best Glide went to Linus Pünder, while newcomer and youngest competitor Finn Flügel (12 years old) took Best Style. Henning Nockel snatched Best Jump in the Super Session, securing his overall win and new title: King of the Wing 2020! Congratulations, Henning.
The test stations set up by Duotone, Fanatic and Starboard saw a record number of people ready to give wing-foiling a try or test the newest gear and have a chat with the pros.
A huge thank you to the team of Surfcenter Altmühlsee for creating a great event in this year's challenging conditions!
Here are the results of the King of the Wing 2020
Race:
Henning Nockel
David Martin
Carsten Kurmis
Super Session (Freestyle):
Best Jump: Henning Nockel
Best Glide: Linus Pünder
Best Style: Finn Flügel
Overall Ranking:
Henning Nockel
David Martin
Linus Pünder
Team Ranking:
Team Altmühlsee (Andreas Häntzschel, David Martin)
Team Element Watersports (Finn Flügel, Oliver Heinritz)
Team Sgladschdglei (Matthias Hahn, Franz Schmoll)
Welcome to the Global Wingsports Association!

The aim of the Global Wingsports Association (GWA) is to globally promote every aspect of wing-foil-, wing-surf-, wing-board-sports, and any other sport in which a wing is used on water, land or snow, in collaboration with the wingsports industry. The GWA will build a platform for all interest groups of wingsports, be it national, continental or international, with the aim to bring more people into wingsports.
For more information on the Global Wingsports Association, please click here.
Featured in this Post
Comments