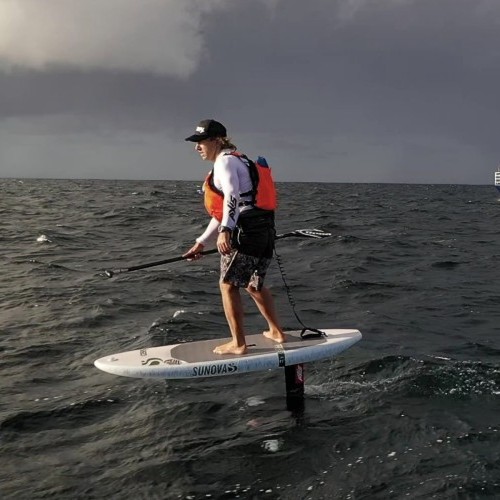 The Generic Foiling Podcast | Episode 17 – James Casey
Wed 8th Feb, 2023 @ 9:30 am
Win a CORE XC Wing this issue in our FREE subscriber prize draw.
Episode 17 of the Generic Foiling Podcast is live – featuring James Casey. Get to know James' day-to-day activities and how he has become such a big name in foiling.
This was our chance to learn how to Downwind in a 2-hour discussion with one of the best in the business (We're yet to put that to the test on the water, but James told us everything we'd need to know – how hard can it be now?!). Waterman Extraordinaire James Casey's following has grown as downwind foiling has become more popular and is now on a tonne of foilers' radars. James was a downwind SUP race athlete before trying foiling back in 2017 and has since helped push the sport of Downwind Foiling massively – culminating most recently in a world record 200km run in 11 hours 17 minutes non-stop foiling.

During this episode, you can expect to hear James' thoughts on which kit we'll need to get set up ready for downwind as well as board sizing suggestions and what he takes with him on both longer and shorter runs. We compare this to how it'll be once downwinding takes off in the UK.

We hear how many times James has had the coastguard called on him after getting calls from the public thinking someones was being swept out to sea. This is an ongoing discussion between Liam and Freddie who have also had run in's with the RNLI in the past. enjoy this one; we sure did! Thanks to James for taking the time to chat with us. PS. For any rugby fans wondering what the typical Aussie thinks of Eddie Jones returning to coach the Wallabies, you can expect to find this out in the episode too – Freddie made sure he asked!
Check James out here: https://caseyaus.com/ @james_casey @coachcasey
Reach out to us: @genericfoilingpodcast [email protected]
Featured in this Post
Australia
2,251
Comments