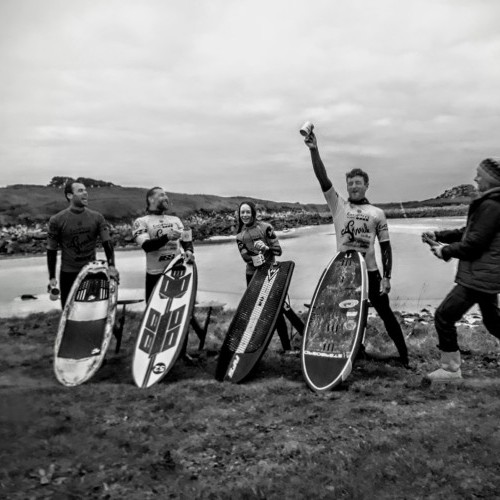 BZH Surf Foil Tour 2023
Wed 8th Mar, 2023 @ 12:30 pm
Last weekend, to our knowledge, the first-ever surf foil contest to take place in Europe was held in Penfoul, Brittany, France. It was put on by Surfing League Brittany (Ligue de Bretagne de Surf) of the Federation of Surfing France and Tomahawk Surf Club. We just have to say – hats off to them, here in the UK it feels like we're a long way off being recognised by a surfing NGB to run contests. One can only hope! Here's a short event report from Greg Closier.
Saturday 4th march was the first stop of the BZH Surf Foil Tour 2023 held at the Iconic foil wave of Penfoul Beach located in Landunvez a small town in the north of Bretagne (breizh land, celtic name so this is why BZH).
This is the first-ever Tour dedicated to surf foiling, thanks to the Surfing Ligue of Bretagne and the local surf club Tomahawk surf for setting up this first event. 18 foilers showed up, coming from all over Bretagne to compete.
The waves were small but really fun for surf foiling, the hide tide provided some long mushy walls, perfect to mix it up with carving turns and spicy connections turns.
The surf foiling criteria was pretty much the same as shortboarding except of course the pumping back. Because the waves were rippable and clean we opted for the 1+1 combo, which means only one connection wave was allowed.
The level of the field was very high, with strong battles to make it to the final heat!
Greg Closier the local got 4th, then Axel Gerard the young wingfoil rising star finished 3rd, then second place for Martin Letourneur. Ben Carpentier took the win, the 2022 SUP World Champ was on fire getting the best scores on every heat.
More than the results, it was the vibe that was so amazing, everybody had a good time.
Also, it was a great opportunity to remind everybody the surf foil etiquette: wear a leash, don't fly too close to people, and don't be too greedy with connections waves.
The next stop will be in St Malo, Martin Letourneur's home spot!
The results
FINALS :
🥇1. Benoît Carpentier (12.34 points)
2.2. Martin Letourneur (10.83)
3.3. Axel Gérard (8.73)
️️4. Gregory Closier (6.67).
Eliminated in the semi-finals: Étienne Guena and Romain Bourge.
Eliminated in the second round: Raian Godfrin, Yoann Cornelis, Guillaume Caudal, Thomas Cotillard, Karl Raoul, Clément Beaumont.
Eliminated from the Playoffs: Andrew Noël, Brice Le Pesquer, Aurélien Guyor, François Coudray, Yves-Marie Le Fourn, Tytouan Le Buhé.
Photo credit:
Laurent Herve
Philippe Alain
Featured in this Post
France
1,795
60,942
Comments