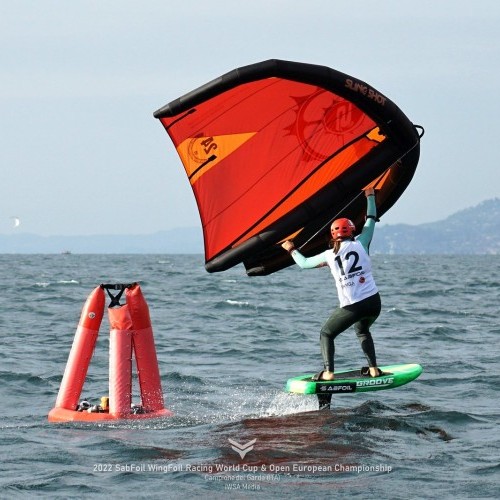 Novotná & Ghio Slalom into Garda Lead
Fri 21st Oct, 2022 @ 12:30 pm
Win a Pair of FacePlant Sunglasses this issue in our FREE subscriber prize draw.
Paula Novotná (CZE) and Mathis Ghio (FRA) have moved into the overall women's and men's lead on day two of the 2022 Sabfoil Wingfoil Racing World Cup and Open European Championships on Lake Garda, Italy.
It was an early start to racing so that the 52 international riders could catch the best of the morning breeze on Italy's most famous lake for high-performance watersports. As the sun rose over Univela Campione, the venue for the wingfoilers on the western shore of Garda, the morning Peller breeze built-in strength. Principal race officer Mirco Babbini sent the women's fleet and three men's qualifying groups out for some fast-turnaround slalom competition.
Yesterday's master of the long distance, Francesco Cappuzzo (ITA), was less than satisfied with his performance. "I was leading the first race but messed it up because I took the wrong mark. I gybed in the wrong place, and my mind went a bit off after that and I struggled to come back [mentally]."
Although one of the pack's bigger, more powerful riders, Cappuzzo says he usually's very comfortable in the lighter breeze, although he admits he got his equipment choice wrong today. This is an open event, so anything goes – the size of foil, the size of the wing, the volume of the board – whatever. While free choice sounds like a tempting form of freedom, it creates challenging dilemmas for the riders as they look out at the variable, patchy breeze on Garda.
"I wasn't happy with my gear choice," said Cappuzzo, who has slipped from first to 7th in the overall rankings, "but after what happened yesterday [winning both races], I feel I can do it. In this kind of racing, it's never over, and I hope for enough races to make a comeback."
Mathis Ghio was leading his first heat until a crash on the final gybe. "I was not focused on the job," admitted the 19-year-old from Marseille. "I was thinking about my opponents just behind me and getting used to the race course format. I was unsure where to make the gybe, and when you're thinking about something other than your riding and sailing, that's when you crash. You must be 100% focused on what you're doing, or things go wrong quickly."
Ghio finished fourth in the first heat of Blue Group but made no such mistakes in the following heats. Instead, three straight bullets launch the Frenchman into the overall lead. Also pleased with his performance in Blue Group was 44-year-old Gunnar Biniasch (GER), who wants to be the top master in the World Cup.
"I can't hang on to these teenagers," said Biniasch this morning before racing.
By the time he came ashore, Biniasch had revised his opinion. "That was much better than I expected. I was finishing 4th or 5th in my heats and only a couple of seconds behind Mathis. So I'm super stoked. I didn't think I could keep up with those guys. I thought I was going to be more middle of my fleet. But I'm starting pretty good, and I'm keeping pace. Maybe I'm playing it a bit too safe on the reaches. I'm not looking to push it, though; I'm trying not to crash. I'll be happy if I can scrape into Gold Fleet on Saturday."
Paula Novotná (CZE) looked very comfortable and quick on the downwind slalom course and moved to the front of the women's competition. Ceris Orane (FRA) moved up to third overall behind Ellie Aldridge (GBR), who drops off the top spot into second; not that surprising considering the full-time kite foiler is new to the slalom game. "I'm learning all the time, and I had no idea what angles to sail downwind," said Aldridge. "I was going for pressure, building the speed on a broad reach, and then I looked around, and everyone else was going straight downwind and pumping. So I'm learning fast."
Novotná and Orane were impressed by Aldridge's start-line judgement. "Ellie was fast off the line," said Novotná. "I was holding back because I didn't want a disqualification, but I need to improve my timing." Orane added: "Paula was super quick, and she was faster than me, but maybe I was quicker in the manoeuvres. But my starting was bad too; it's a big area for improvement."
Everyone is on such a steep learning curve; there's a great sense of adventure and discovery at the Sabfoil Wingfoil Racing World Cup. Rafferty Read (GBR) loves the cross-fertilisation of ideas about how to make a wingfoil go faster.
"There are so many different wings and foils and boards here, and it's great to see what other people are using. There's a lot to learn about gear and about techniques. This racing is telling me I need to work on my manoeuvres and short, sharp decision-making and stuff like that. This is a great event to soak up knowledge."
The men's fleet continues to compete in three qualifying groups for the short-course racing until the end of Friday. Saturday is the finale, with the top riders going to the gold fleet showdown. After that, the women will continue to race in their distinct short-course groups.
RESULTS AFTER 6 RACES
MEN
1. Mathis Ghio (FRA), 4.4 points
2 Alessandro Tomasi (ITA), 5.3 points
3. Clement Colmas (FRA), 7.0 points
WOMEN
1. Paula Novotná (CZE), 5.0 points
2. Ellie Aldridge (GBR), 9.0 points
3. Ceris Orane (FRA), 9.0 points
Click here to follow the full competition!
Featured in this Post
Comments