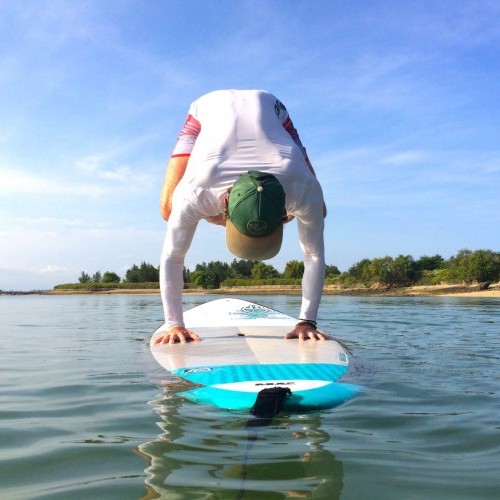 Bakasana – Crow Pose – Advanced
Technique / SUP Yoga
Not for the faint hearted!
Make sure you only try this pose if you are competent with it on land because, on water, it's definitely more challenging! The positioning of the hands is key to having a strong, stable foundation. Hands are placed parallel evenly on each side of the handle on the centre of the board. The best tips to nail this pose are to take your time to slowly shift your body weight forward into position and ensure a strong bind with the back of the arm and the knees. Once you have found the tipping point in this pose, test the water by taking one foot off the board at a time. A steady breath means a steady pose so take your time! Trust that your body will know how to compensate for the movement of the water surface.
This technique article was in Issue 4 of Tonic Mag.
Chantal and Ben make a strong dynamic team in sharing their lifestyle, passion for yoga, water sports and love of the ocean to others with a focus on fun, safety and appreciation for the oceanic environment. They are both highly qualified in their fields and have trained countless people over the years across various water sports. Their business, Kite West, operates SUP Yoga coaching in both Geraldton, Western Australia and Bali, Indonesia. Get in touch for personalised coaching across a wide range of activities!
Problems? Ask Below