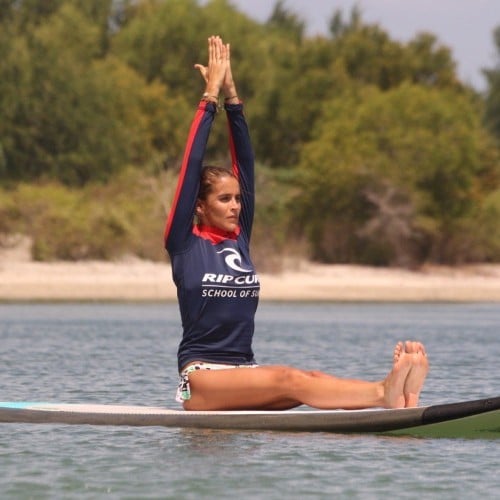 Dandasana – Stick Pose – Beginner
Technique / SUP Yoga
This seated pose has low gravity therefore is stable on a Stand Up Paddelboard making it accessible to all levels.
To achieve this pose, ensure you are seated directly over the handle in the middle of the board. Extend the legs out straight pushing through your heals engaging the quad muscles. Sit up straight with a long spine, extending the arms up straight overhead with the palms of the hands facing each other. If the backs of the legs/hamstrings are tight, bend the knees.This pose will strengthen the back, the core and is great for improving posture.
This technique article was in Issue 2 of Tonic Mag.
Chantal and Ben make a strong dynamic team in sharing their lifestyle, passion for yoga, water sports and love of the ocean to others with a focus on fun, safety and appreciation for the oceanic environment. They are both highly qualified in their fields and have trained countless people over the years across various water sports. Their business, Kite West, operates SUP Yoga coaching in both Geraldton, Western Australia and Bali, Indonesia. Get in touch for personalised coaching across a wide range of activities!
Problems? Ask Below