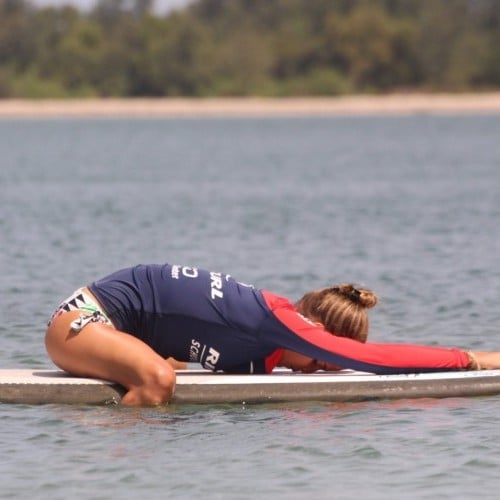 Mandukasana – Frog Pose – Beginner
Technique / SUP Yoga
This luscious hip opener is perfect for beginners as its low gravity on the board and very stable.
Start by straddling the board positioning yourself over the centre of the board, generally where the handle is located. Slowly extend your arms forward walking your fingertips towards the nose of the board. Your hip flexibility will determine how deep you can get into the pose, so only go as far as your body will allow. This pose will open the hips with an external rotation of the hip joint; it will lengthen the back muscles, shoulders and arms. Let your feet dangle in the water and slowly get yourself deeper into the pose with every exhalation by softening through the hips. Forward folds are great for grounding and finding calmness. Use the subtle movement of the water to get even deeper into the pose.
This technique article was in Issue 3 of Tonic Mag.
Chantal and Ben make a strong dynamic team in sharing their lifestyle, passion for yoga, water sports and love of the ocean to others with a focus on fun, safety and appreciation for the oceanic environment. They are both highly qualified in their fields and have trained countless people over the years across various water sports. Their business, Kite West, operates SUP Yoga coaching in both Geraldton, Western Australia and Bali, Indonesia. Get in touch for personalised coaching across a wide range of activities!
Problems? Ask Below