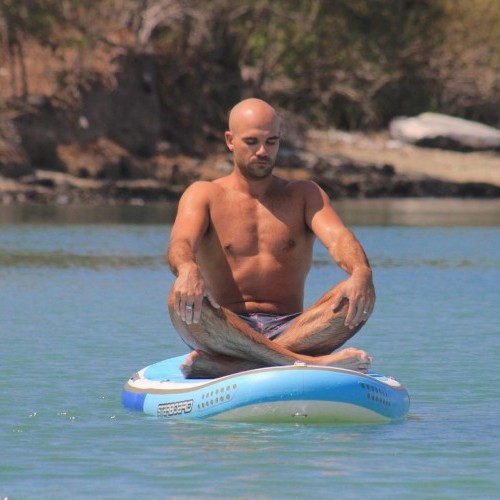 Sukhasana -Easy Pose – Beginner
Technique / SUP Yoga
A great pose that stretches the knees, ankles and opens the hips. It also focuses on lengthening the back muscles and spine.  Usually, this pose is done at the beginning of a SUP Yoga practice, Sukhasana helps to still the body and mind in preparation for other more challenging poses.
It instils a sense of tranquillity and a feeling of being grounded which is often needed especially with the excitement that comes from being new to SUP Yoga. It's also a good posture to bring awareness to the breath. Take eight deep breaths and start to become aware of the movement of the water below allowing your body and mind to find calmness.
This technique article was in Issue 5 of Tonic Mag.
Chantal and Ben make a strong dynamic team in sharing their lifestyle, passion for yoga, water sports and love of the ocean to others with a focus on fun, safety and appreciation for the oceanic environment. They are both highly qualified in their fields and have trained countless people over the years across various water sports. Their business, Kite West, operates SUP Yoga coaching in both Geraldton, Western Australia and Bali, Indonesia. Get in touch for personalised coaching across a wide range of activities!
Problems? Ask Below