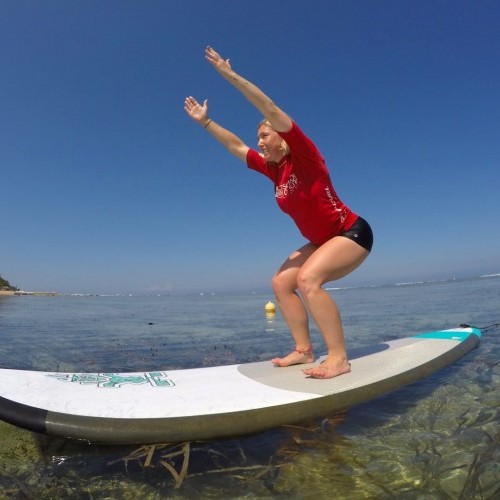 Utkatasana – Chair Pose – Intermediate
Technique / SUP Yoga
Great pose to strengthen the entire body and increase stamina.
Feet should be placed hip distance apart either side of the handle on the centre of the board. Feet and knees are parallel and so are the arms. Make sure you don't overarch the back by tucking the tailbone under and draw the ribs under. The best tip for increasing stability is to look forward at something in the distance; don't look down onto the board as the movement will put you off balance! The deeper the knee bend, the more challenging the pose. For those daredevils, try hovering one foot off the board and maintain your balance then swap to the other foot.
This technique article was in Issue 3 of Tonic Mag.
Chantal and Ben make a strong dynamic team in sharing their lifestyle, passion for yoga, water sports and love of the ocean to others with a focus on fun, safety and appreciation for the oceanic environment. They are both highly qualified in their fields and have trained countless people over the years across various water sports. Their business, Kite West, operates SUP Yoga coaching in both Geraldton, Western Australia and Bali, Indonesia. Get in touch for personalised coaching across a wide range of activities!
Problems? Ask Below