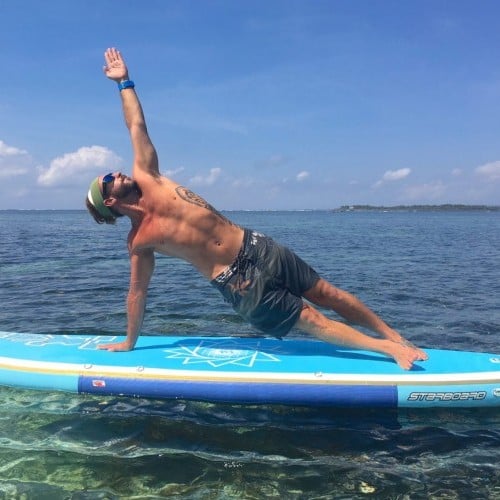 Vashistasana – Side Plank – Intermediate
Technique / SUP Yoga
A dynamic and challenging arm balance which builds strength, endurance and a very strong core!
This pose aims to give you a sense of feeling long from the top of the head right down to the feet. Press into the heel of the hand, spreading the fingers widely to ensure a steady foundation. The sternum lifts, the hips are neutral, and the top shoulder rolls back which stacks both shoulders.
Many variations and modifications exist in the pose to make it accessible to everyone. Try an easier version by bending the bottom knee which rests on the board for extra support. For proper alignment and to get the most out of this pose, make sure the top leg is forward with the sole of the foot flat on the board to increase stability. The option of lowering down onto the forearm can be useful if balancing, on one hand, is a little too challenging.
This technique article was in Issue 5 of Tonic Mag.
Chantal and Ben make a strong dynamic team in sharing their lifestyle, passion for yoga, water sports and love of the ocean to others with a focus on fun, safety and appreciation for the oceanic environment. They are both highly qualified in their fields and have trained countless people over the years across various water sports. Their business, Kite West, operates SUP Yoga coaching in both Geraldton, Western Australia and Bali, Indonesia. Get in touch for personalised coaching across a wide range of activities!
Problems? Ask Below